Chinese Autos Continue V-Shaped Recovery To End 2020
Chinese Autos Continue V-Shaped Recovery To End 2020
It's almost as if life is back to normal in China…
The recovery in Chinese auto sales continued strong through the end of the year, with vehicle wholesales rising 6.4% and passenger vehicle sales rising 7.2% in December 2020. See if you can spot the V-shaped recovery below:
According to data released on Wednesday by the China Association of Automobile Manufacturers, passenger vehicle sales totaled 2.375 million units while vehicle wholesales totaled 2.83 million units. 
Heading into 2021, the CAAM expects the recovery to continue. They believe vehicle sales will increase 4% to more than 26 million units total in 2021, according to Bloomberg. This prediction is despite a current semiconductor shortage in the auto market that is causing production disruptions across the globe.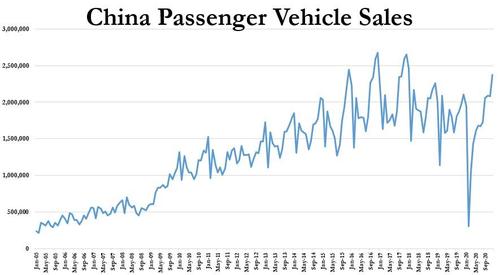 In December, new energy vehicle wholesales were up a massive 49.5% to 248,000 units. 
This comes as we continue to note that the market for EVs in China continues is ripe. EV sales from January to November of 2020 were up 4.4% this year versus a decline of 7.6% in overall passenger cars during the same period. Chinese auto sales had seen a full V-shaped recovery by October of this year, we noted at the time. 
Recall, we noted in November that NEVs will be 20% of China's new car sales by 2025. The "new energy" category includes battery electric, plug-in hybrid and hydrogen fuel-cell vehicles. Sales will rise as the country's "NEV industry has improved their technology and competitiveness," according to a new policy paper reviewed by Reuters.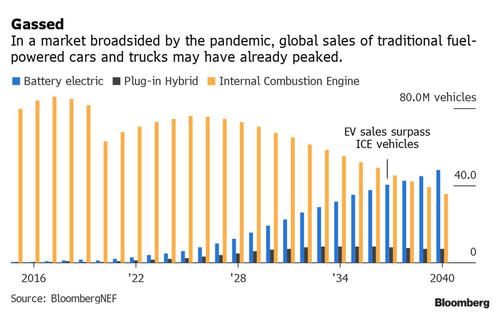 In the country's 5 year plan to 2025, the State Council has pushed for improvements in EV technologies, building more efficient charging and implementing battery swapping networks. The Chinese government will also adopt quotas and incentives to to "guide automakers" (i.e. force them) to make EVs after Federal subsidies end in two years.
The government is also looking at ways to implement EVs for public uses, commercial use and mass transit. 
Tyler Durden
Wed, 01/13/2021 – 23:05