Kerry Visits China for Climate, CCP'S "Wolf Warriors" Demand Promises First
Translator: MOS – Xunchi
On September 3, ZeroHedge reported that Kerry, the former U.S. Secretary of State and current President Joe Biden's special envoy on climate change, visited Tianjin from September 1 to September 3 to push the CCP to make more public commitments before the UN climate summit in November. But the U.S. and China have failed to reach a climate agreement.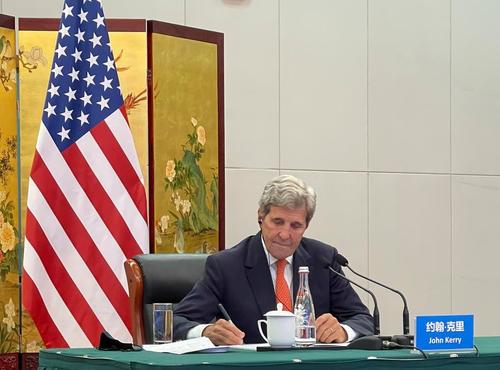 According to multiple media reports, Kerry also spoke with Han Zheng, Yang Jiechi, and Wang Yi through separate video meetings during his visit in addition to meeting with China's special climate envoy. According to the reports, Yang Jiechi, played like a "wolf warrior", did not mention the fault of launching the biological attack with the CCP virus, but only urged the US to "correct its wrongdoings", i.e., demanded the U.S. lift sanctions. Another "wolf warrior" Wang Yi showed no weakness said that "China-U.S. cooperation on climate change issues cannot be separated from the wider environment of China-U.S. relations", which means that the CCP will cooperate on climate issues only if the U.S. fulfills CCP's proposals and improves the China-U.S. relations. In response, Kerry said, "Climate issues are not ideological, nor partisan, and much less a geostrategic weapon".
The U.S.-China meeting appears to be tit-for-tat on the surface. But the under-table deals will certainly have a subtle impact on the present international situation.
(This article only represents the author's opinion.)
References:
重要性堪比GDP?中央发文支持地方探索GEP核算体系_https://www.guancha.cn/ChanJing/2021_08_23_604013_s.shtml
Proofread and Posted by: Irene
For more information, follow us 
New York MOS Himalaya |MOS TALK
New York MOS Himalaya |YouTube
Free to Join New York MOS Himalaya | Discord